Welcome to the Official Website of Khunpon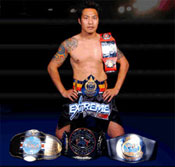 Welcome to the homepage of Atlanta's Muay Thai legend, Khunpon Dechkampu. Internationally recognized as one of the world's top Muay Thai talents, he first began honing his skills as the eight year old prodigal son of a family who's heritage lay deeply intertwined with that of Muay Thai. Winning his first fight at only nine by way of knockout in the third round, his development as a fighter continued at the gym where it began: at home with a trainer known nationally for molding over ten champions and known locally as a father that inspired perfection. In time, potential gave way to mastery and sacrifice yielded to success as his prolific fighting career continued. Within ten years of his first entrance into to the ring, Khunpon had become one of the most well known boxers in Bangkok and had moved to another gym only to become the first of many superstars of the highly touted Kaewsemrit boxing stable. After capturing numerous national titles and dominating the competition in multiple weight classes at both Rajadamnern and Lumpinee stadium during his teenage years, Khunpon then went on to capture his first of four world titles at age twenty one. A reputation defined by skill and punctuated with success has given him the opportunity to train, compete, and teach internationally.
With over 200 fights to his name, Khunpon is now the head instructor and owner of Bangkok Boxing Fitness, Atlanta's premier Muay Thai gym.
Khunpon's vision has been to create Atlanta's premier "Thai style" exercise experience. This experience ranges from a high-energy, thai inspired, fitness kickboxing program geared towards body sculpting, to Muay Thai classes geared toward teaching the real fighting techniques and strategies within the art of Muay Thai.
Whether the nature of your goals lie in fitness or martial arts, Khunpon has provided the perfect means to achieve them through Bangkok Boxing. He has personally tailored the classes to be a collection of his most effective training techniques. Unique in instruction and beneficial to all, his classes welcome everyone from the fitness enthusiast, to the beginner student and all the way up to the seasoned veteran. For more information on becoming a part of Team Khunpon, contact us or stop by Bangkok Boxing Fitness, conveniently located in two metro Atlanta locations: one in Midtown Atlanta and the other in Gwinnett.
View Larger Map
To contact Khunpon for private lessons or to join one of our classes, you can contact him online or you can give him a call at 678-379-9894.
Congratulations Chike Lindsay Bangkok Boxing Fitness instructor Chike Lindsay wins the WBC Muay Thai super welterweight international title. Read the article.
Bangkok Fight Night: Atlanta! Get Ready! Bangkok Fight Night 11 is October 22nd. More info coming soon. Check out all the best of past events at bangkokfightnight.com
Bangkok Boxing Fitness: NEW GWINNETT location is now open! Stop by and check it out! bangkokboxingfitness.com
Muay Thai and martial arts training at Bangkok Boxing Fitness in Atlanta, GA. Stop by for a FREE session with
Khunpon!